Partitür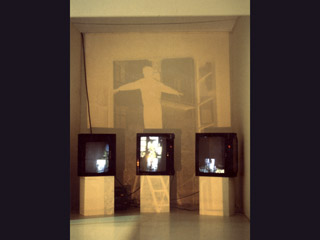 Cooperation
with Ute Wassermann
Description
Partitür: Partitur (German score) and Tür (German door).
Various instances of doors opening and closing, and impromptu acts by two performers at the door are recorded on slides. These slide series are projected onto the opposite wall. A small-size transparent acryl plate is put on this wall.
The diverse movement of the opposite door and performers (including acts to generate sounds) are reflected on this plate as in a mirror. Movement in space where the performers are projected creates shadows, and the overlap of projected images, shadows, and reflected images create diverse frames.
Installation
Three monitors are set up vertically. The video images produced are edited into three transformed rhythms, and presented on three monitors simultaneously.
The sounds are made into one for three video images, and diversely exchanged with the three video images. The sounds are mixed again with sounds produced through the act of video making.
Slide images are re-projected onto the place where the three monitors are set. Shadows of viewers are made between the project and the monitors and repeated image projections are overlapped continuously.
Related Works
Exhibition
September 12–14, 1991, "Relative Depth of Field", Westwerk Gallery, Hamburg
November 14–24, 1991, "AVE festival", Arnhem
1991, "Noord Kunst", Groningen