Pretty Good Look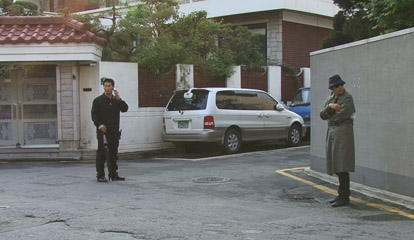 Cooperation
with Monitoring Team: Goeun Bae, Seungbum Hong, Minho Jo, Jungwha Jung, Youngnam Kim, Sohyun Moon
Description
How can we find a suspicious person among the people? What are the criteria to distinguish the suspicious ones? The people on the streets, the detectives, and the victims of such stereotypes have tried to come up with their own answers to these questions.
The policemen actually come to inspect the actor who hangs around the residential areas dressed as one of these suspicious types, the performers in police uniforms can easily control the people on the streets, the real and the fake policeman check on each other, a citizen who happens to be followed by a member of our "monitoring team" starts to take calculated actions.
This pseudo-documentary film, composed of performances, fictions and real situations, images of cinemas, and interviews, shows misunderstandings and absurdities of the general ideas that people seem to hold on this subject.
Related Works
Related Text
Interview: "Managing Utopia", Visual, 2010 Vol. 7, edited by The Center for Visual Studies, Korean National University of Arts
Exhibition
June 10–28, 2009, "Managing Utopia", Gallery 175, Seoul
Screening
August 24–30, 2013, ARKIPEL (International Documentary and Experimental Film Festival), Jakarta